AidilFitri Package
Paket 'Aidil Fitri'
4 hari/3 malam - mulai dari IDR 2.359.800
Termasuk:
Akomodasi selama 4 hari 3 malam termasuk sarapan pagi
Minuman selamat datang
Antar jemput dari dan ke bandara
15% diskon untuk makanan
20% diskon untuk spa
Gratis Internet WiFi (maksimal 2 devices per kamar)
Akses gratis ke Gym, Sauna, dan Jacuzzi
Gratis late check out sampai jam 3 sore (sesuai dengan persediaan kamar)
Manajemen & staff Sanur Paradise Plaza Hotel mengucapkan
Selamat Hari Raya Idul Fitri 1435 H.
Pada saat booking, masukkan kode promo: KETUPAT
Promo ini berlaku dari 25 July - 03 Agustus 2014
Book & Pay Later
Book, Pay Now & Save
Book & Pay Later
Make your reservation, guarantee it with a credit card and settle the payment for the room upon check in, payment using credit card will be charged in Indonesian Rupiah base on Hotel's book keeping rate on the day payment is settled.
Book, Pay Now & Save
Make your reservation and pay in full with a credit card at todays exchange rate and receive a special discount.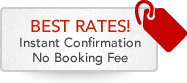 Select your intended arrival date and departure date, Then click Check Rates. If you have a promotion code or an agents code, please enter into the applicable box.