New Look of Café Komodo
19 August 2021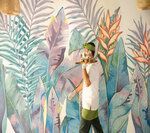 The interior of Café Komodo has recently been refurbished, featuring an artistic muralpainted our "artistic" staff, Ida Bagus Anom Gede Nurbawa, I Gusti Ngurah Mardika,and I Made Megayana. Showcasing the painting talent and creativity of these Balinese artisan, diners can enjoy the awesome feeling of tropical rainforest and colorful plants of Indonesia while enjoying a delicious meal. At Prime Plaza Hotel Sanur it's all about that sense of community and showcasing the talents of local artists.
Café Komodo, a casual all-day dining alongside the pool serving contemporary cuisine and signature sensational cocktails. Open for breakfast, lunch and dinner, Cafe Komodo serves international and local cuisine.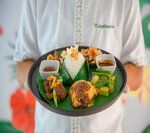 Interior Café Komodo baru saja selesai direnovasi, menampilkan lukisan mural artistik yang dilukis oleh staf "artistik" kami, Ida Bagus Anom Gede Nurbawa, I Gusti Ngurah Mardika, dan I Made Megayana. Menampilkan bakat melukis dan kreativitas pengrajin Bali ini, pengunjung dapat menikmati suasana hutan hujan tropis dan flora warna-warni khas Indonesia sambil menikmati makanan lezat yang disajikan oleh Chef kami. Di Prime Plaza Hotel Sanur, kami selalu menampilkan bakat seniman lokal dan nilai kebersamaan.
Café Komodo merupakan restoran di tepi kolam renang yang menyajikan masakan kontemporer dan minuman khas racikan dari Chef kami. Cafe Komodo buka untuk sarapan, makan siang, dan makan malam dengan sajian masakan lokal dan internasional.
Previous
Sanur Escape
Next
Book Your Event in Advance