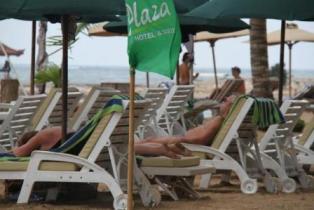 The Sands Beach Club (formerly the Bonsai Restaurant) is located in the heart of Sanur Village very close to the markets, the staff at the Sands Beach Club are willing to serve all you refreshments, from a cold Bintang to some local delicacies the Sands Beach Club has it all. You can enjoy a swim, or just sit back and relax and enjoy the sun at our beach Club!
The tranquil and calm waters of Sanur Beach provide the perfect setting for a truly relaxing holiday. Beach towels, deck chairs, large shade umbrellas and a hotel staff member will be available throughout the day to attend to your recreational and beach needs. Toilets and showers are also available; all you need to do is show up in your beachwear!
A complimentary frequent scheduled shuttle service, is provided daily (from 9 am to 6 pm) to bring you from the Prime Plaza Hotel and Suites Sanur - Bali to Sanur's shopping area and restaurants, as well as to this beach facility, and vice versa.
Warm and friendly village folks offer a soothing Balinese massage accompanied by the laughter of young local children playing on the beach while enjoying access to the sun, sea and fun! Watersports are also available at nominal costs, provided by the local community.
Please note that the Sands Beach Club is an independent restaurant and Beach Club separated from the Prime Plaza Hotel and Suites Sanur - Bali. Under agreement we are providing sun lounges and towels for our hotel guests.